Jamie Ayles & Chris Dean
Canmore, Alberta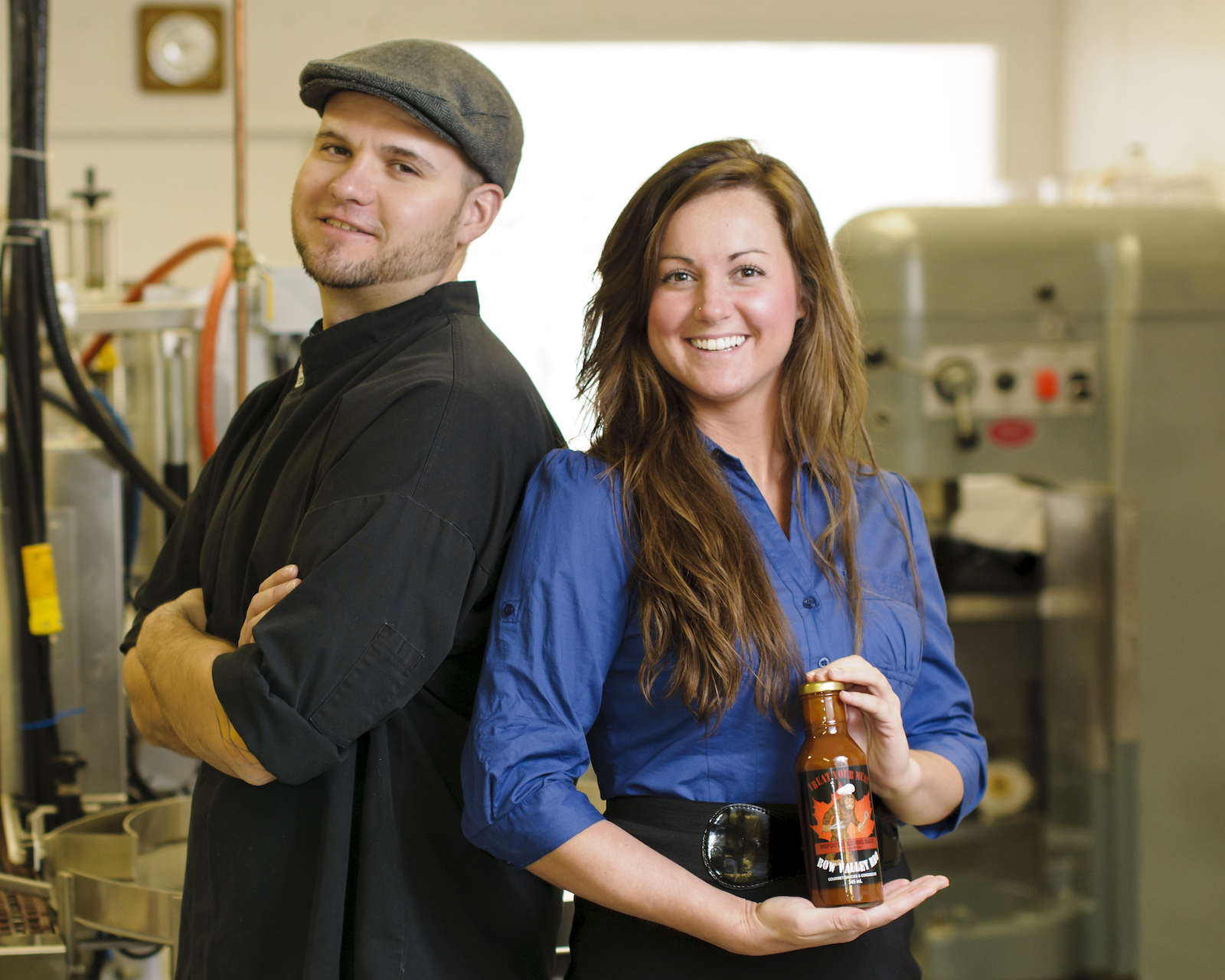 What happens when you have talent and passion, but no idea how to start or operate a business? If you're like many aspiring entrepreneurs, you dive in and hope your dream somehow turns into success. Chances are all you'll earn is a membership in the Failed Business Club. Not as exclusive as you might think, over 30% of all new ventures in Canada join within their first two years of operation.
It can be done, though. Jamie Ayles and his fiancée, Marie-Lyne Richard started Bow Valley BBQ Inc. three years ago and their business is smokin' hot and saucy!
A mutual interest in food production led this Canmore-raised executive chef and his food and retail management fiancée to the idea of selling an exclusive line of sauces and condiments. Jamie's ability to blend the right ingredients had already led to menu development consulting for several restaurants. While both were enjoying secure management positions at a northern Alberta resort, they worked on their dream of returning to Canmore to turn the growing demand for his culinary creations into a business of their own.
Jamie attributes his training as a chef as why he recognized all the right ingredients were also needed to make their business idea a success. The couple understood early on that without strong business skills, no matter how much talent they had, their idea would fall flat. "The food industry is difficult. I knew how to create delicious gourmet sauces and condiments," he says. "We both had management experience, but needed to learn more about the best business practices."
Jamie contacted Community Futures Centre West in Cochrane for help and with their guidance, learned the basics of business planning, financing, marketing and other core skills. Marie-Lyne concentrated on expanding her web design, social media and bookkeeping skills through independent studies.
The pair secured an initial youth loan through Community Futures, and through a recommended food production grant program, soon began producing their line at Alberta's Food Development and Processing Centre in Leduc. They recently received additional financing to purchase Boccalino Grotto Fine Foods, an established condiment line available in major grocery stores across western Canada. "We started off with mason jars, homemade labels and five base products," Jamie recalls. "Now we just bought the business, complete with a production plant, that was an initial inspiration to us when we started in 2012 - family run and based in Canmore. Although Bow Valley BBQ is already a high growth brand, buying Boccalino's has opened up even more opportunities as we move forward. "
"The support we've received from Community Futures has been great. From our initial meeting in a Canmore coffee shop to funding a second loan so we could expand, we've been treated with respect and understanding. They believe in us."
Jamie's chef secret for new entrepreneurs? "You'll hear a hundred reasons not to start a business. But if you're willing to mix hard work (the secret ingredient) with time and more effort than you thought possible, like us, you'll wish you had made the move to self-employment earlier!"
Visit Bow Valley BBQ Inc's website at http://www.bowvalleybbq.com/